Technology
Eliminate the Cybersecurity Blind Spot
AI platform for Cyber Analytics and Hybrid SecOps. You get all threat management technologies in a single platform.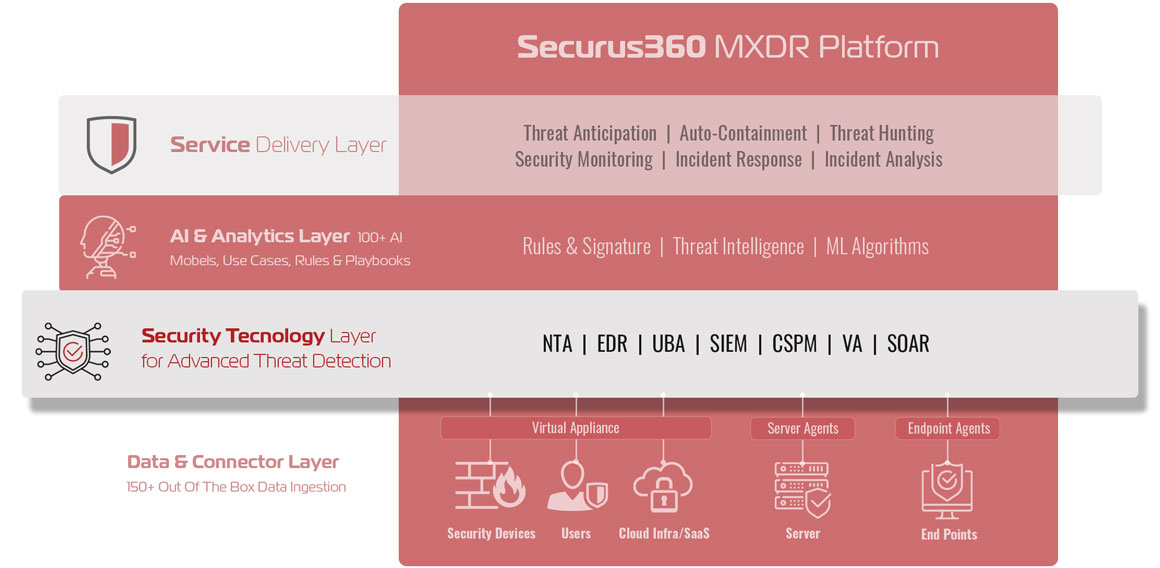 AI –Advanced AI platform for Cyber Analytics and Hybrid SecOps. Powered by Neural Nets, Natural Language Processing, Supervised and Unsupervised. Processing 25 billion events per day.
SIEM – Proper collection and correlation of log and event data is critical for effective cyber security. A SIEM system, when used to full advantage, can be the cornerstone of your cyber defense and your compliance. Optimal SIEM results require expert skills and resources, which Securus360 can provide reliably and cost-effectively. Our SIEM solution can constantly assess your security status and intelligently correlate events and incidents from your security systems and networks. By filtering and prioritizing alerts, we help you to stay safe and compliant.
Network Traffic Analysis (NTA) – Monitor network availability and activity to identify anomalies that include security and operational issues.
Endpoint Detection and Response (EDR) – the platform offers an integrated endpoint solution that combines real-time continuous monitoring and collection of endpoint data with automated response and analysis capabilities.
User Behavior Analytics (UBA) – track systems and user behaviors to identify insider threats, targeted attacks, compromised user accounts, and fraud.
Vulnerability Assessment – Armed with intelligence, security experts analyze and prioritize both global and targeted threats with a proactive approach in responding to potential attacks. The service reviews thousands of threat information data points daily to identify vulnerabilities that may introduce risk into your organization's network. By applying advanced analytics to identify and prioritize the vulnerabilities that pose the most risk to your critical systems, we continuously monitor your systems to identify key vulnerabilities that can be exploited. Whether it is an out-of-date software or weak configuration, our team will help identify, prioritize, and provide guidance to keep your systems secure.
Cloud Security Posture Management (CSPM) – Provides visibility into your cloud infrastructure. Our CSPM module continuously checks for misconfigurations that can lead to data breaches and leaks.
SOAR – Security Orchestration and Response helps define, prioritize and automate security operations. It collects inputs where incident analysis and triage can be performed while allowing response procedures to be executed.
Talk to the Securus360 Team
Your Corporate Cyber Protection Starts with Securus360. Request an Evaluation and Demo!