Differentiator: ML-Driven MXDR
Discover and Respond to Cyber Threats at Machine Speed
To successfully manage current cyber threats, you must bridge the gap between the speed of attack and the speed of defense. ML-driven MXDR services can deliver high-speed cyber defenses to thwart attacks in near real-time.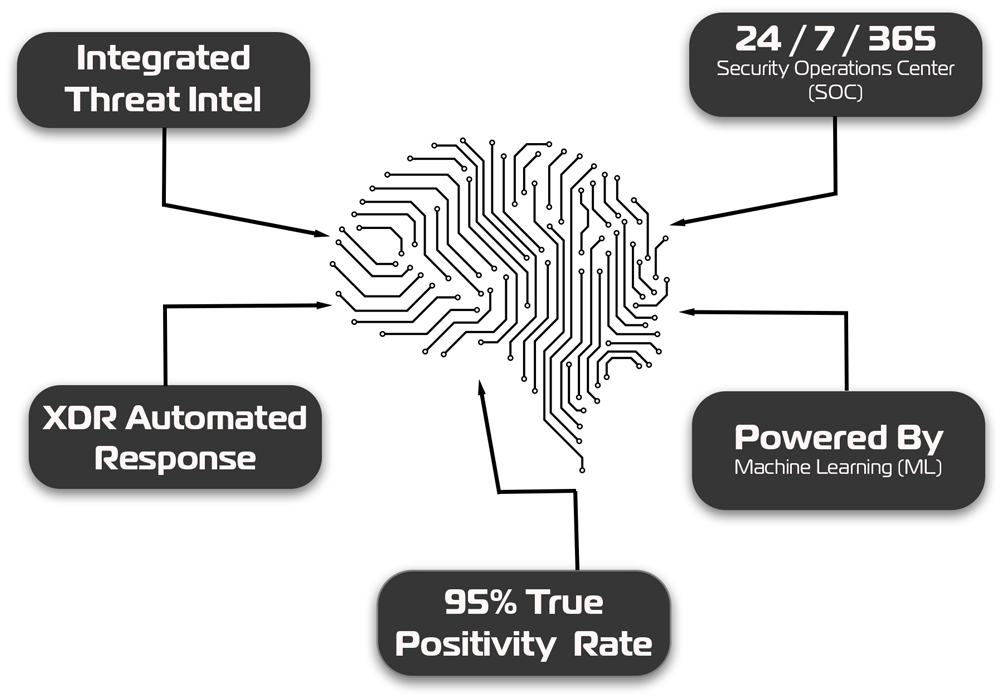 Traditional security monitoring services are slow to detect attacks and slow to respond to them. They are built to meet compliance requirements and detect known attacks by using pre-defined rules. This approach cannot detect advanced attacks and insider threats that are often hidden and bypass such rules. And with such legacy security monitoring services, organizations are left to respond to not only an inordinate and unmanageable number of false alerts but also to the true threats themselves, where lack of automation and orchestration means mitigation can take days, weeks, months and in some extreme documented cases, years.
Securus360's Managed eXtended Detection & Response (MXDR) differs from traditional MSSP services. It combines machine learning, security automation, and human intelligence to swiftly detect advanced threats and respond to them rapidly so that an offensive campaign is interrupted before its objective is achieved. Advanced machine learning provides early detection of new, never before seen, unknown threats and our security automaton helps ensure a faster response. We bring in the critical human intelligence with over 1,000+ security analysts and engineers.
Securus360's MXDR is a next-generation cloud native managed security service. We leverage a big data security analytics and response orchestration platform along with our mature distributed security operations centers (SOCs) to deliver unmatched threat visibility and mitigation for our clients.
Talk to the Securus360 Team
Your Corporate Cyber Protection Starts with Securus360. Request an Evaluation and Demo!